If anyone cares here are just some things I did with my life today! And even if nobody does care this is MY blog so I shall write whatever I wish!
1. Woke up at 2 pm. Which is strange because usually I wake up quite earlier than that.
2. Shoveled the driveway so it wouldn't look atrocious like our other neighbors and so my mom would be able to drive into the garage. During this process I seemed to have broken my hand somewhat or dislocated something because although I can bend my hand, it really hurts to do so! I guess I won't be punching people in the lip for a few days. =D
3. Made red flavored jello. That didn't turn out well. Who the hell screws up jello? That would be me. I lost the box so I put in 5 cups boiling water- stirred, then realized that cold water was needed somewhere beforehand so I put the bowl in the freezer for 5 HOURS. Yeah, let's not ever do that again!
4. Drank diet coke. A LOT of diet coke. Three 24oz ones to be exact! This has the possability of whacking out my vocal chords come tomorrow!
5. Watched the first half of the SAG Awards. I read somewhere yesterday that both SAG and AFTRA are going to become one union and I hope that goes through, atleast for the actors sake. I have wanted to join SAG for awhile but the qualifications to join are pretty unavailable here considering where I live it's hard to get into one SAG related film let alone three.
But the awards were pretty professional I must say. I was incredibly shocked that the fantastic Kate Winslet beat out both Maggie Smith and Betty White. Her performance in Mildred Pierce was amazing though so it was well earned.
Oh and how the hell didn't Meryl Streep or Kyra Sedgwick win? I agreed with two of the winners (minus Kate Winslet)
Outstanding Performance by a Stunt Ensemble in a Television Series- Game of Thrones
Outstanding Performance by a Stunt Ensemble in a Motion Picture-
Harry Potter and The Deathly Hallows – Part 2
That is it. Granted I haven't seen half of the movies nominated yet, but A Game of Thrones and Harry Potter are both fantastic.
As for Modern Family winning, when they got on the stage the kids from the show gave the speech which was completely and overly stilted and rehearsed but it was nice to see the cast let the kids accept the award. HOWEVER that little acceptance speech clearly made me realize why this show shouldn't have won! It's seriously not that funny, or at least I don't think it is. Then again I've only seen two episodes (based on the fact that Tara Platt was supposed to be in one episode and Stephanie Sheh was in another) and I have an unbelievable disliking towards Sofia Vergara. The speech the kids gave made me facepalm rather than laugh. But who am I to be saying who I think should win if that's what the SAG members liked?
However, my favorite part of the night was when Betty White won for some lifetime movie and Julie Bowen who was in the same category as Ms. White, took a glass of champagne after the announcement and drank it down. It was a lot funnier than I'm making it sound. In my opinion if you are in a category with Betty White or Meryl Streep you have no chance.
As for the fashion?
My favorite dresses were:
Kaley Cuoco
Emma Stone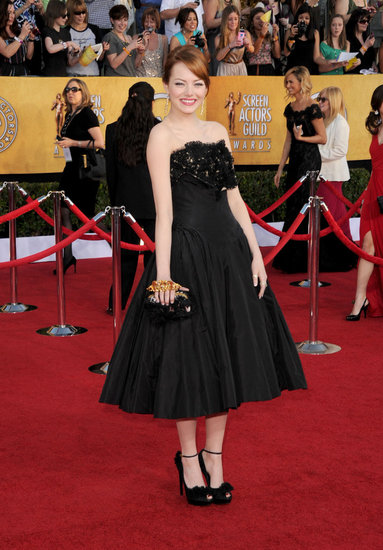 Viola Davis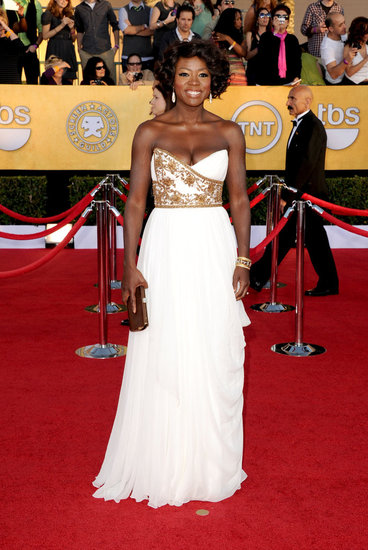 Dianna Agron
Natalie Portman
My two favorites for best dressed;
Julianna Margulies
Emily Blunt
Now we can't have a best dressed without a worst dressed can we?
Rose Byrne- This would be nice if it was a dress. But it's a body suit which is just wrong.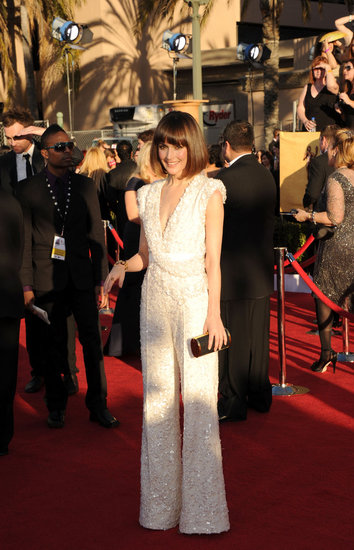 Amber Heard- Just not digging this dress what so ever.
Heather Morris- This reminds me of a gender swap Batman.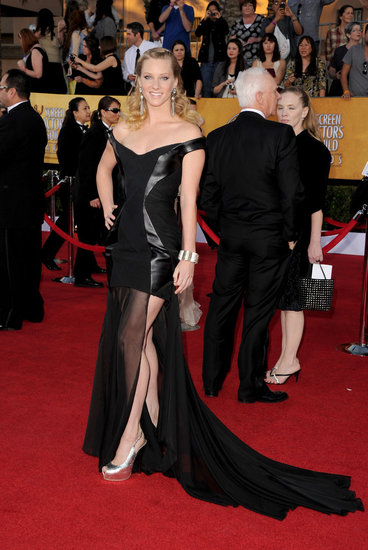 Kristen Wiig- I saw this woman on television in this dress and although I think she is way too thin to be healthy this dress really sucks and the accessories do not do anything to help it.
Zoe Saldana- I just hate everything about this dress! I cannot wait to see Joan Rivers says about this.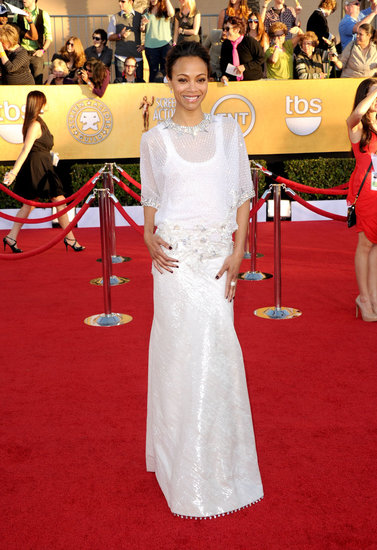 BITCH STOLE MY LOOK!
Below we have George Clooney's girlfriend, Stacy Keibler wearing a dress by Marchesa. As soon as she got out of the limo or whatever it was I said, hey! I think she stole Carrie Preston's look! Although the dresses are a bit different considering Carrie's is much shorter and has a v neck, I do believe that they are by the same designer.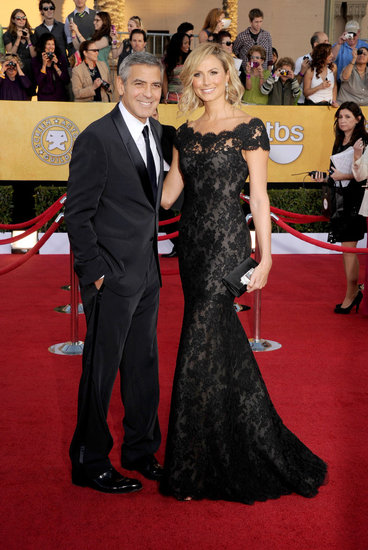 6. Downton Abbey- I skipped the last half of the SAG awards to watch this. This and Person of Interest are the two shows that I am fully obsessed with right now. If you haven't seen one of these shows DO SO! Go watch them right now! But anyways, last nights episode had to be one of the best so far this season. I feel so bad for Daisy and Mary right now it's unbelievable, especially Daisy because of what happened to William. Oh and Thomas is still a complete douche along with Mrs. Bates. Ethel's story line is getting pretty sad and if anything what I learned from this episode is don't mess with Violet (played by Maggie Smith) for she will always win.