As always I tend to watch award shows when I have nothing to do and when nothing else is on. However this year I made a special point to tune into the Golden Globes because Les Miserables was nominated in a few categories and of course I want that movie to win everything.
To start off with, the fashion.
Anne Hathaway: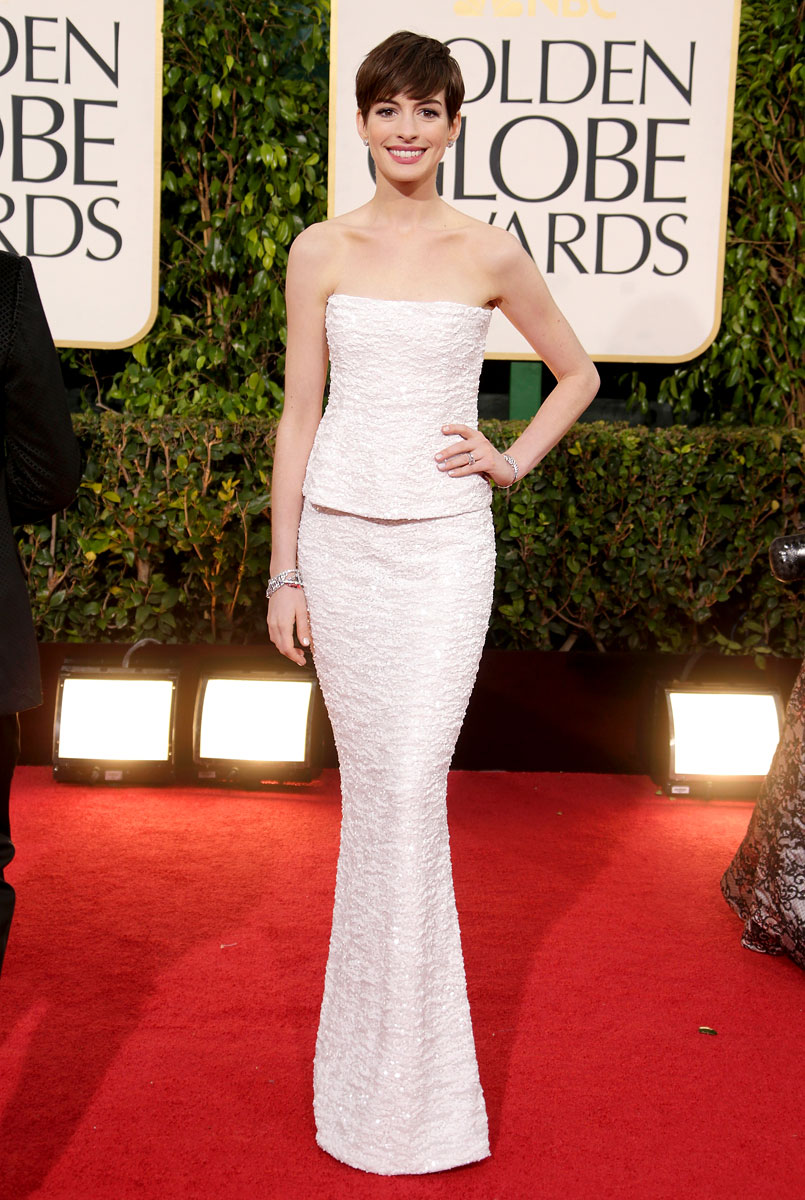 This Chane; dress is just simply elegant and I loved it. Fits her new hairstyle perfectly and instead of this being a "safe choice" I thought it really stood out among a lot of the other dresses.
Kaley Cuoco:
I thought the red lipstick wasn't needed but I am absolutely in love with the dress.
Helena Bonham Carter: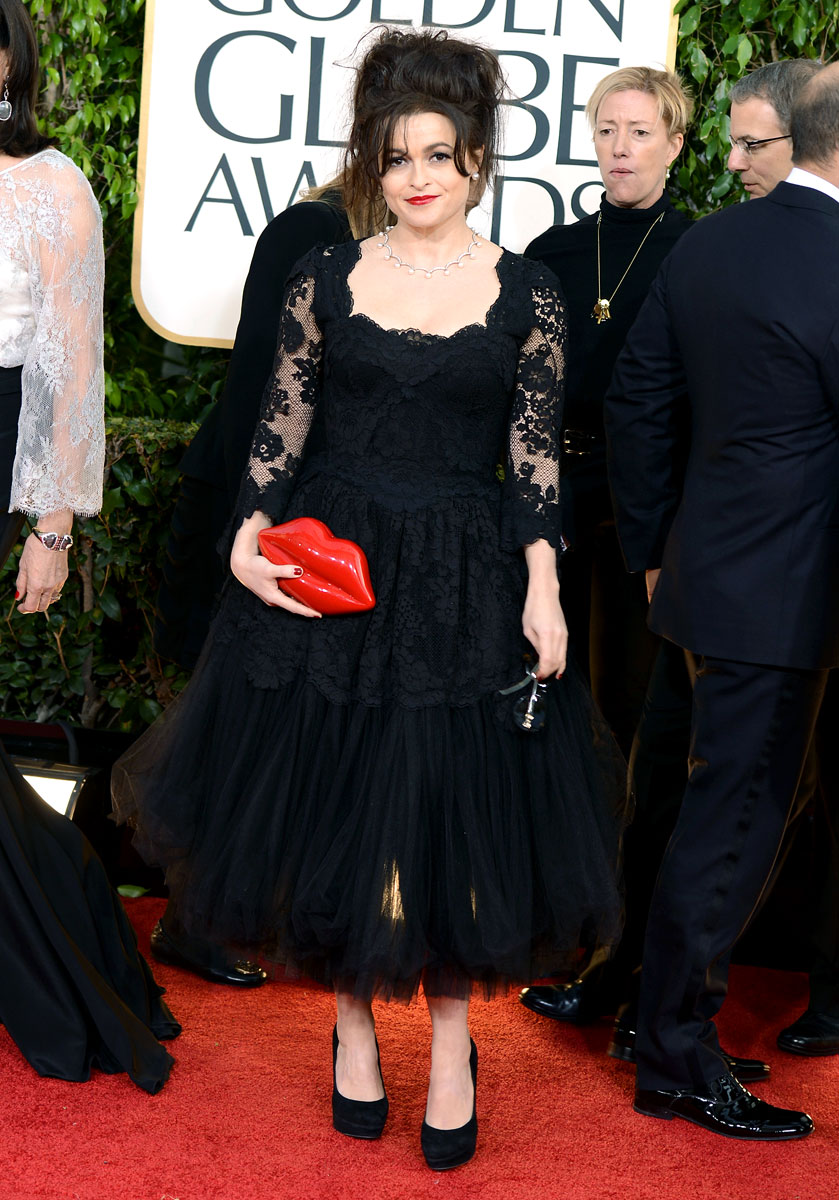 As always I loved her style. And the purse is what completely makes this a Helena look.
Maybe not the most appropriate choice to wear to the Golden Globes but Halle Berry has the body to pull anything off. Although the dress may show off a little of the stomach it is beautiful none the less. Maybe not the best dress to pick during the winter months but I honestly liked it.
Kate Hudson
Bold choice of dress and it looks nice on her but I could never pull something like this off.
Amanda Seyfried
She looked just like a princess. This had to be my favorite of the night.
Jennifer Garner
I love the color and detail of this dress and it fits her perfectly! I'm glad she didn't over-accessorize and just let the outfit speak for itself.
Julianna Margulies
I always love her outfits during these events. Lovely as always although I would have preferred a different hairstyle.
Michelle Dockery: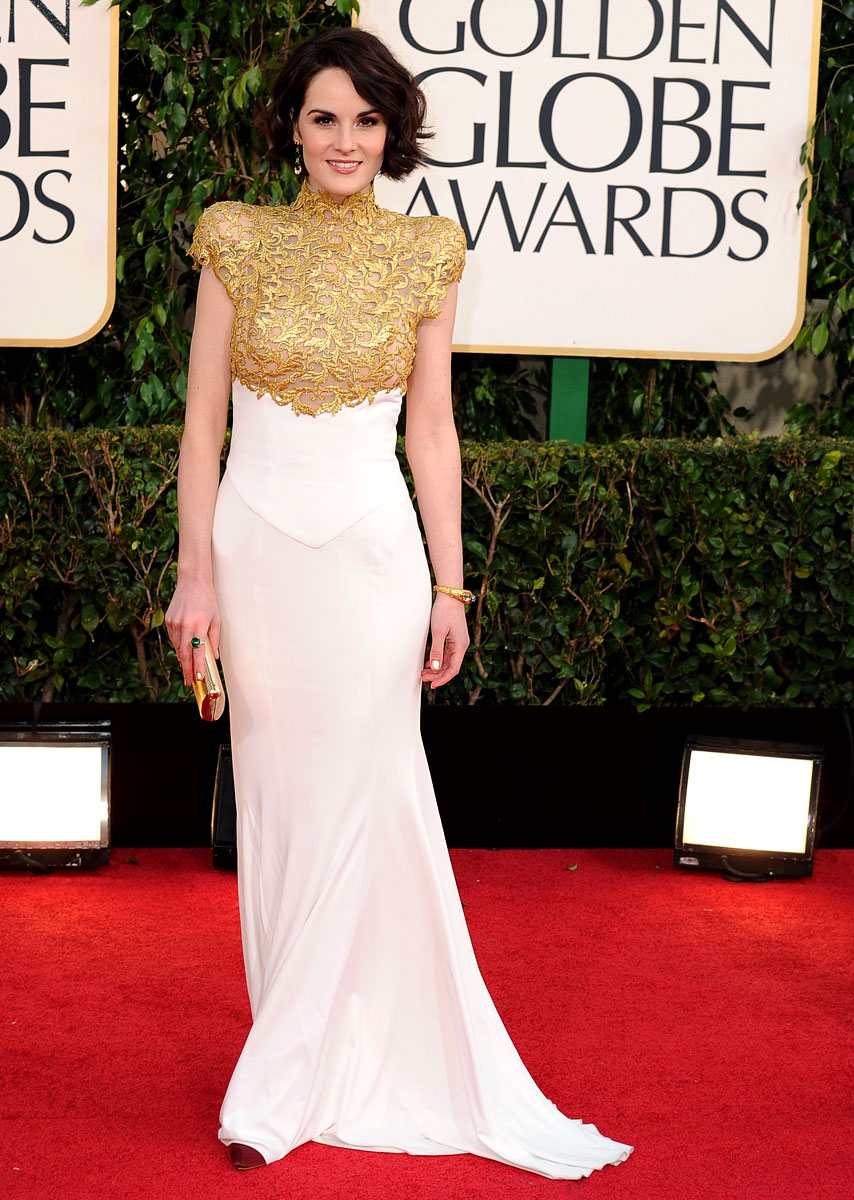 I love Michelle but I think she could have picked a better choice of dress. I've never been a huge fan of turtlenecks but even if I'm not a huge fan she definitely looks very beautiful and can hold her own against the Hollywood fashion critics.
Nicole Kidman: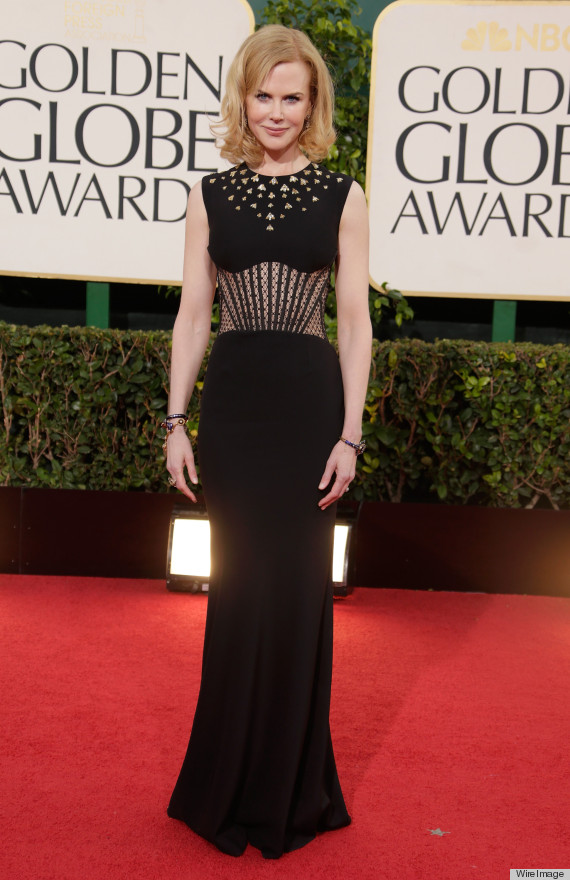 She looked so beautiful. Best dressed of the night next to Amanda Seyfried!
Lucy Liu
I would have never expected Lucy Liu to wear something like this but she looked glorious and I was happy to see someone other than Helena be unique on the carpet this year.
WORST DRESSED
Sienna Miller: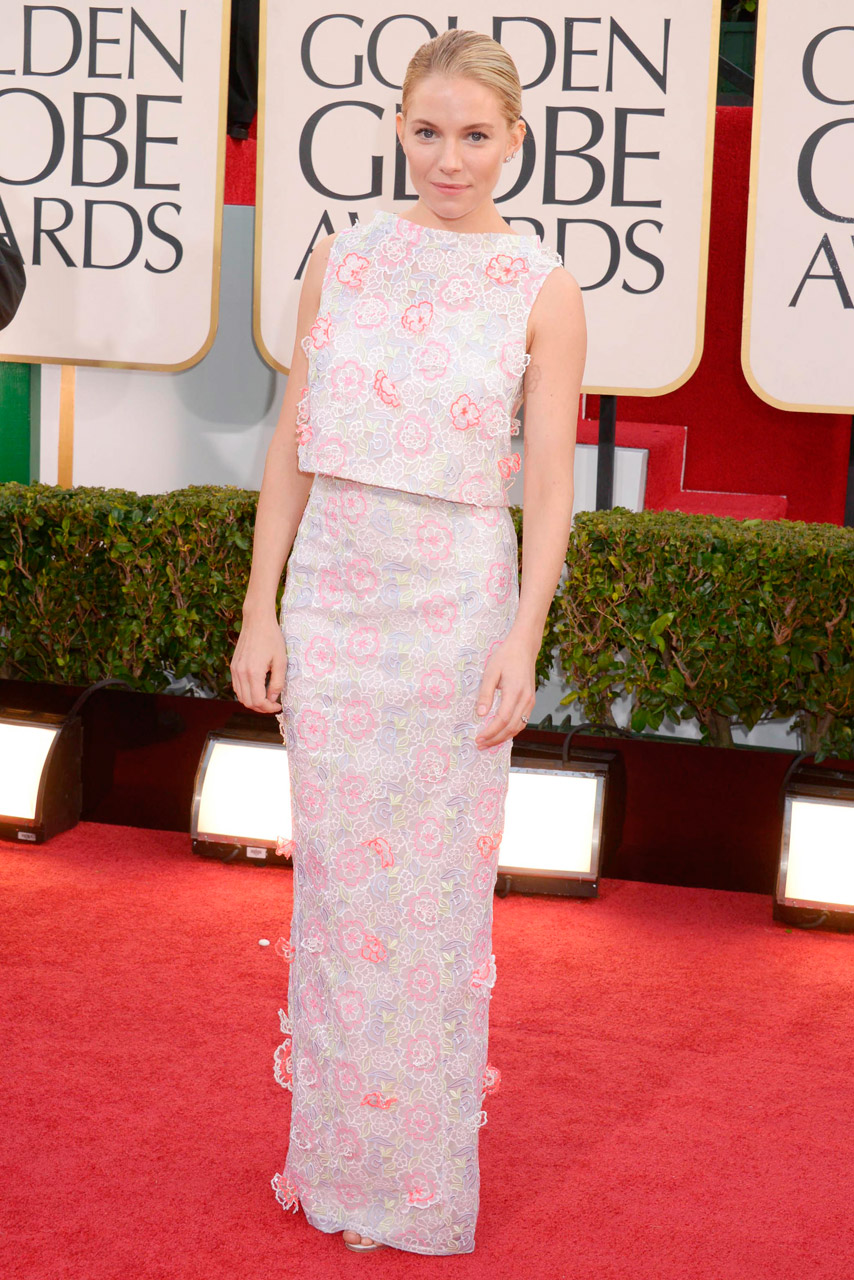 Not a fan. It's a somewhat cute dress but it's not appropriate for the Golden Globes. It might match my grandmothers curtains now that I think about it...
Julia Louis Dreyfus
I loved the dress and found it to be really beautiful just not on her. Maybe it's just the picture but
Emily Mortimer
There is no polite way to say this; this dress is hideous and needs to be burned.
Taylor Swift
I really disliked this dress. Taylor usually looks nice at these award shows but this dress was just boring- kind of like her music (Yes. I did just say that.)
Olivia Munn
This dress makes me frown and shake my head in shame.
Before the Show
Of course a ton of the actors, directors, singers, etc. were interviewed but I couldn't help but notice that when someone was interviewing the amazingly talented Helen Mirren a certain Sofia Vergara kept looking insanely mad that SHE wasn't being the one interviewed yet. Um it's Helen Mirren dear, you are nothing compared to her.
The Show:
If they could have Tina Fey and Amy Poehler host every year I would not complain. They were much better than Gervais and had me laughing a lot and not in an "OMG I can't believe they just said that" way. Well done ladies.
The first award was presented by Bradley Cooper and Kate Hudson - 'Best Supporting Actor in a Motion Picture' and
Christoph Waltz won and seemed really happy about his win. Good for him.
Kerry Washington and Dennis Quaid presented ' Best Supporting Actress in a Series, Miniseries of TV Movie' and
Maggie Smith from Downton Abbey won. I'm always super upset that she never shows up to these award shows but am still very glad she always wins.
'Best Miniseries or TV Movie' -
Game Change
'Best Actress in a TV Miniseries or Movie-
Julianne Moore
for
Game Change
.
I have not seen Game Change so I can't really comment on the win. I thought
Jessica Lange should have got it for American Horror Story: Asylum but sadly when you play Sara Palin you will automatically win no matter what.
Catherine Zeta Jones looked gorgeous (as she always does) and introduced the reel for Les Miserables. I cannot think of a more perfect person to have done that with the exception of Victor Hugo himself or
Claude-Michel Schönberg.
.

They then introduced the president of the Hollywood Foreign Press Association like they always do. I know a lot of people could care less about them but I believe that they have every single right to be on that stage if not more so than everyone else. They are the reason these awards are given out.
The Best Exotic Marigold Hotel reel was shown and presented by Rosario Dawson who I must admit looks a lot different from her Josie and the Pussycats days. I am not the intended audience for this movie but I did see it and I did happen to like it. I swear if they had a scenery award this would win automatically.
'Best Actor in a TV Series - Drama'- Damian Lewis for Homeland. I have never seen any of the shows listed for this category but Homeland does seem to be a really popular show.
'Best TV Drama'- Also went to Homeland. Man, I really need to see Homeland.
Best Original Score- Went to Michael Danna for Life of Pi. I could have sworn Anna Karenina was going to take it.
'Best Original Song'- Adele won for Skyfall. This was seriously the best award of the night. She was so happy and looked so surprised to have won it and let's face it, Skyfall is a great song. Sure, I would have liked Suddenly from Les Mis to have won but I am alright with this especially since Taylor Swift looked really upset about the win. Way to catch that camera crew!!!
'Best Performance by an Actor in a Miniseries or Motion Picture Made for Television'. Kevin Costner won for

Hatfields & McCoys and I swear his speech was longer than Dance With Wolves.
America's former President, Bill Clinton, probably received the biggest round of applause all night for introducing Lincoln. Honestly I thought it was kind of cool to have him do that.
Kristen Wiig and Will Ferrell presented
'Best Actress in a Motion Picture - Musical or Comedy' and it was kind of hilarious.
Jennifer Lawrence
won for
Silver Linings Playbook and yeah, did not see that one coming. She beat out both Meryl Streep and Dame Maggie Smith. I don't get it.
Best Supporting Actor in a TV Series, Miniseries or Television Film' goes to
Ed Harris
for Game Change who is obviously having tea with Maggie Smith right now so he couldn't be there. Like I said I have yet to watch Homeland, but out of the guys nominated I wanted
Mandy Patinkin to win. =(
Anne Hathaway won
'Best Supporting Actress in a Motion Picture'
which got me screaming because she totally deserved it. Freaking loved her speech and am just so beyond happy that she won.
Robert Pattinson and Amanda Seyfried presented 'Best Screenplay - Motion Picture' and I love Amanda's look here;
It says "Why did the Globes have this guy present? This is not worth it..."
But anyways, the award went to

Quentin Tarantino

for Django Unchained and although I have yet to see the movie I have always been a huge Tarantino fan so I was proud that he won!
'Best Actor in a TV Comedy or Musical'-
Don Cheadle
House of Lies.
Sylvester Stallone and Arnold Schwarzenegger presented 'Best Foreign Language Film' (oh the irony) which went to Amour. All of the films that were nominated looked great. I saw 3 of the 5 foreign films that were nominated last year so I'll probably have to check out some of them this year as well.
'Best Actress in a TV Drama' went to Clare Danes for Homeland. Danes loves her job so it was well earned. However I can't help but feel that Michelle Dockery always get's screwed over during award time.
Sacha Baron Cohen is a great actor but as a person is a real douche. He basically trashed his Les Mis co-stars and that was unclassy as hell.
'Best Animated Feature' was awarded to Brave which I thought was definitley a shoe in for a win. Disney will ALWAYS win in this category. Every time. Brave was a great film though and I really liked the message behind it.
Lena Dunham won best actress in a comedy for Girls! I have never seen the show but she looked very thankful for the award and stated that "This award is for everyone who feels like there wasn't a place for her.This show made a space for me."
Fey and Poehler appear back on stage once again losing the award for best comedic actress which is a shame. They tell Taylor Swift to keep away from Michael J. Fox's son which I found to be more hilarious than it probably should have been.
After the two leave the stage Robert Downey Jr. presented (or atleast I think that's what he was trying to do) the
Cecil B. DeMille award to the lady of the night, Jodie Foster. I am a big fan of hers and I really think her speech was the best one I have heard in a long time.
I really don't want her to retire from acting though (and I'm almost positive that her retirement is just a rumor). She's great and is a great director as well. There seems to be a lot of hate going towards her after she
received
this award just because she's a lesbian, my most favorite being "
Don't dare to speak badly about Christianism ever again Jodyy! Praise the Lord! Praise Jesus!" Nice. Not once in her speech did she talk about religion. Yeah, she's a lesbian, I knew that way before the speech and I really don't understand why people care so much. She received the award because she has been in the industry for 47 years and always gave a wonderful performance that's all that people need to focus on before saying things about how she prefers woman over men. Almost positive that did not factor into her getting the award.
Ben Affleck won best director for Argo. Not much to say about this really. Affleck is a cool dude and the movie does look fantastic but because I have not seen it I can't say much.
Girls won best comedy television show. Again, not much to say about this.
Best actor in a movie musical or comedy-
Hugh Jackman!!!!!!!!!!!!!!!!!!!!!!!!!! I was so happy for him and as always he thanked his wife for being awesome. I was really biting my nails on this one although he seemed to have
out shined
everyone in the category. You give Valjean some release papers and he wins an award, way to go Russell Crowe.
Dustin Hoffman arrived to hand out the award for Best Picture, Musical or Comedy. And the fabulous Les Mis won. Happiness all around!
George Clooney presented the award for Best Actress: Drama. I will never understand why everyone loves Clooney. And the Golden Globe goes to... Jessica Chastain for
Zero Dark Thirty
. I really want to see this movie. I loved Chastain in The Help and I'm almost positive she deserved the award.
Because the fabulous Meryl Streep was ill people thought that Clooney could just hand out the next award for Best Actor: Drama. Sorry to say this but Clooney will never be at the same level as Meryl Streep. But anyways, Daniel Day Lewis took the globe for Lincoln, which I'm pretty sure everyone saw coming.
The last award of the night went to Argo for Best Picture: Drama.
Great show Hollywood Foreign Press. May the odds be in the nominees favor come Oscar time.